INTRODUCTION
The new version of OBIEE 12c, 12.2.1.1 to be exact, is out, so let's talk about it. It's my intent that after reading this, you can expect some degree of comfort in regards to possibly doing this thing yourself (should you find yourself in just such a circumstance), but if not, feel free to drop us a line or give us a ring. It should be noted that Oracle documentation explicitly indicates that you're going to need to upgrade to OBIEE version 12.2.1.0, which is to say you're going to have to bring your 11g instance up to 12c before you can proceed with another upgrade. A colleague here at RM and I recently sat down to give the upgrade process (click there for the Oracle doc) a go on one of our hosted windows servers, and here's the cut and dry of it. The examples throughout will be referencing both Linux and Windows, so choose how you'd like. Now, if you've gone through the 12c install process before, you'll be plenty familiar with roughly 80% of the steps involved in the upgrade. Just to get this out of the way, no, it's not a patch (in the sense that you're actually going through the OBIEE patching process using OPatch). In fact, the process almost exactly mirrors a basic 12c install, with the addition of a few steps that I will make darn sure we cover in their entirety below. Speaking of which, I'm not going to do a play-by-play of the whole thing, but simply highlight those steps that are wholly unfamiliar. To provide some context, let's go through the bullet points of what we'll actually be doing during the upgrade.
First, we'll make sure we have a server appropriate, supported version of java installed (8_77 is the lowest version) and that this guy corresponds to the JAVA_HOME you've got set up.

Next, we'll be running the install for the WebLogic server into a NEW oracle home. That's right, you heard me. A. new. oracle. home.

After that, we'll be running a readiness check to make sure our OBIEE bits won't run into any trouble during the actual upgrade process. This checks all OBIEE components, including those schemas you installed during the initial install process. Make sure to have your application database admin credentials on hand (we'll talk about what you need below in more detail). The end of this step will actually have us upgrade all those pieces the readiness checker deems worthy of an upgrade.

Next, we'll reconfigure and upgrade our existing domain by running the RECONFIGURATION WIZARD!!!!! and upgrade assistant, respectively.

Lastly, we'll start up our services, cross our fingers, hold onto our four leaf clovers, etc.. (just kidding, at least about that last part).
Before we begin, however, let's check off a few boxes on the 'must have' list.
Download all the files here, and make sure you get the right versions for whatever kind of server your version of OBIEE hangs out in. The java version will be 8_101 which will work out just fine even though the minimum needed is 8_77.

Get those database credentials! If you don't know, drop everything and figure out how you're going to access the application database within which the OBIEE 12c schemas were installed. You'll need the user name/pass for the SYS user (or user with SYS privileges), and the database connection string as well, including the service name, host, and port.

Make sure you have enough disk space wherever you're installing the upgrade. The downloads for the upgrade aren't small. You should have at least 150GB, on a DEV box, say. You don't want to have to manage allocating additional space at a time like this, especially if it involves putting in a ticket with IT (wink wink)! Speaking of which, you'll also need the server credentials for whichever user 12c was installed under. Note that you probably don't need root if it was a linux machine, however there have been some instances where I've needed to have these handy, as there were some file permission issues that required root credentials and were causing errors during an install. You'll also need the weblogic/obiee admin user (if you changed the name for some reason).

Lastly, make sure you're at least a tad bit familiar with both the path to the oracle and to the domain home.
SETTING UP JAVA
After downloading the version of Java you need, go ahead update it via the .rpm or .exe, etc… Make sure to update any environment variables you have set up, and to update both the JAVA_HOME variable AND the PATH to reference the new Java location. As stated above, at the time of this blog, the version we used, and that is currently available, is 8_101. During the upgrade process, we got a warning (see below) about our version not being 8_77. If this happens to you, just click Next. Everything will be alright, promise.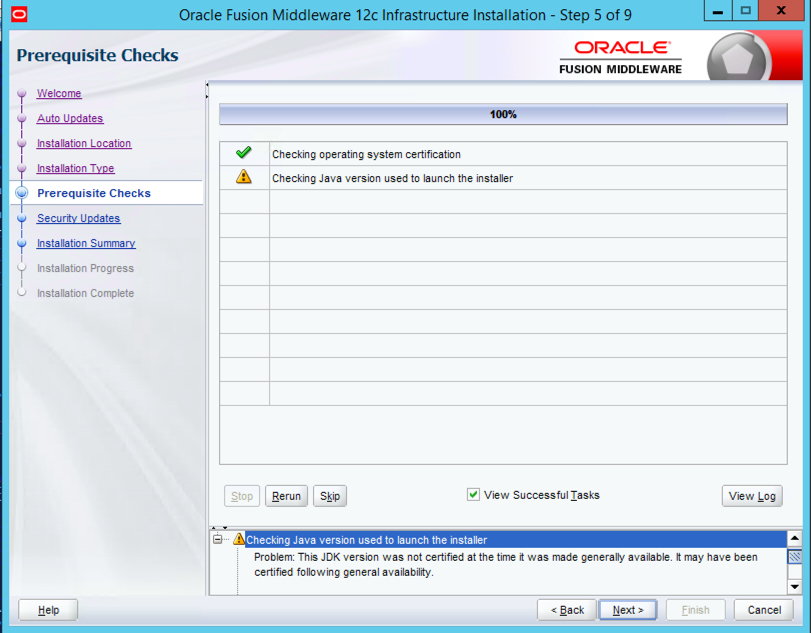 A NEW HOME FOR ORACLE
Did you click the link to the upgrade doc yet? If not, do so now, as things are about to get kind of crazy. Follow along as we walk through the next steps if you'd like. First, stop services and disable the SSL like it tells you to. Then, start OBIEE services back up and then run the infrastructure jar (java -jar fmw_12.2.1.1.0_infrastructure.jar) for the WebLogic server install. Again, I'm not going to go pic by pic here as you can assume most everything resembles the initial 12c install process, and this part is no different. The one piece of this puzzle we need to focus on is establishing a new oracle home. After skipping those auto updates, move onto step 3 where we are, in fact, going to designate a new oracle home. You'll see that, after completing the WebLogic install, we'll have a bunch of updated feature sets, in addition to some new directories in our 12.2.1.1 oracle home. For example, if your original home is something like:
/u01/app/oracle/fmw
change it to: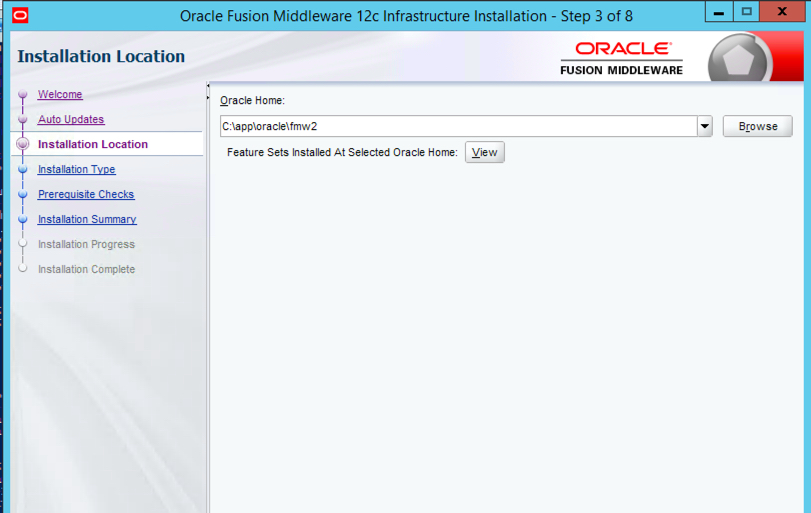 when it asks you to enter a new one.
Breeze through the rest of the steps here, and remember to save that response file!
UPDATING OBIEE
Unzip both of the fmw_12.2.1.1.0_bi_linux64_Disk#_#of2.zip files, making sure that your OBIEE install files are in the same directory. For windows, this will be the executable from the first zip file, and the zip file from the second part of disk 1. Execute the binary (on linux) or .exe, going through the usual motions and then in step 3, enter the NEW oracle home for 12.2.1.1. In the example above, it would be:
/u01/app/oracle/fmw2
for Linux, and likewise, for Windows: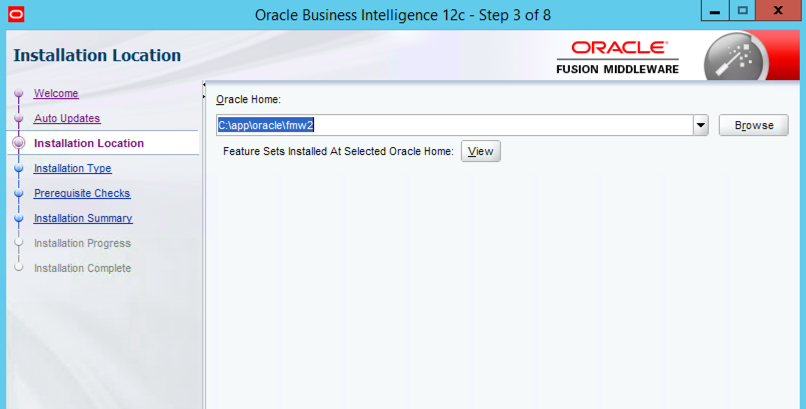 Again, there isn't too much to note or trap you here beyond just making sure that you take special care not to enter your original oracle home, but the one you created in the previous section. Proceed through the next steps as usual and remember, save your response file!
UPDATING THE 12C SCHEMAS - USING THE READINESS CHECKER AND UPDATE ASSISTANT
Run the readiness checker from:
NEW_ORACLE_HOME/oracle_common/upgrade/bin/ua -readiness
This next series of steps will take you through all the schemas currently deployed on your application database and confirm that they won't explode once you take them through the upgrade process. In step 2 of 6, make sure that you're entering the port for EM/Console (9500 by default). Remember when I said you're going to need the DB credentials you used to install 12c in the first place? Well here's where we're going to use them. The readiness checker will guide you through a bunch of screens that essentially confirms the credentials for each schema installed, and then presents a report detailing which of these will actually get upgraded. That is to say, there are some that won't be. I really like this new utility as an extra vote of confidence for a process that can admittedly be oftentimes troublesome.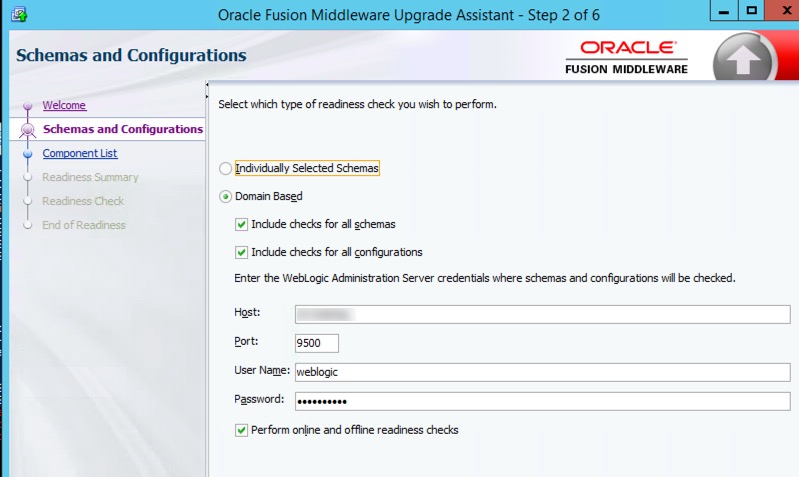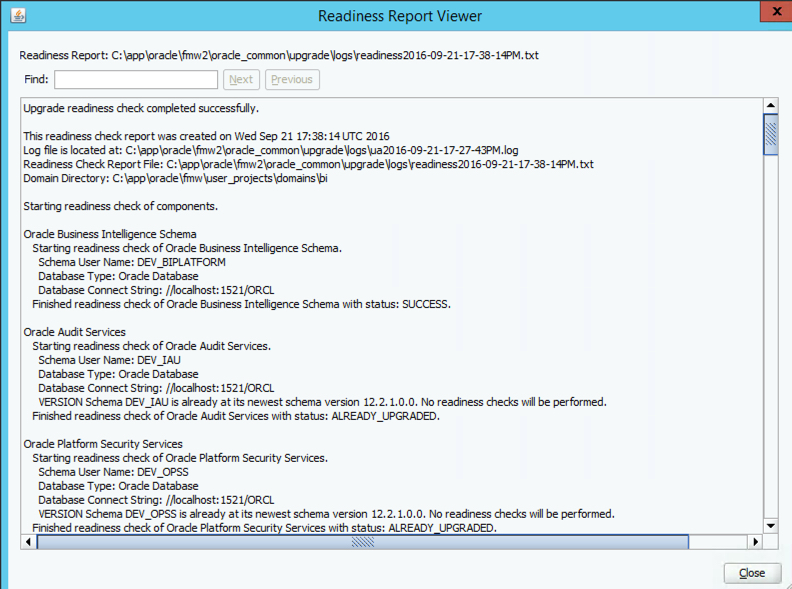 Once you've validated that those schemas ready for update, go ahead and stop OBI12c services using the EXISTING oracle home.
Pro tip: they've made it super easy to do this now by just pointing your bash_profile to the binaries directory in OBIEE's bitools folder (ORACLE_HOME/user_projects/domains/bi/bitools/bin). After logging this entry in your profile, you can simply type start.sh or stop.sh to bring everything up or down, not to mention take advantage of the myriad other scripts that are in there. Don't type those paths out every time.
I digress… After the services come down, run the upgrade assistant from within the NEW oracle home, as below:
Citing the previous example:
NEW_ORACLE_HOME/oracle_common/upgrade/bin/ua
After bringing up the install dialogue box, move on to step 2, and select the All Schemas Used by a Domain option (as in the example above), unless of course you'd like to hand select which ones you'd like to upgrade. I suppose if you were thinking about scrapping one you had previously installed, then this would be a good option for you. Make sure the domain directory you specify is from your existing/old 12c instance, as below: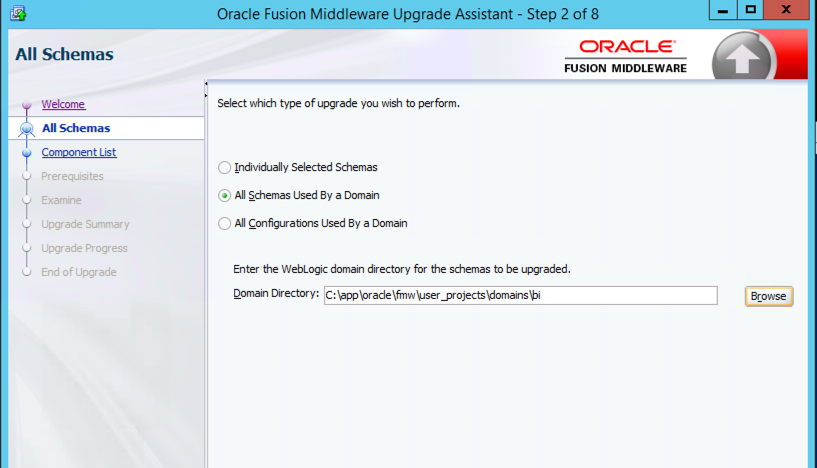 Move through the next series of steps, which are more or less self explanatory (no tricks here, promise), once again validating connection credentials until you get to step 12. As always, save the response file, select Upgrade, and then watch the magic happen,….hopefully. Congratulations, you've just updated your schemas!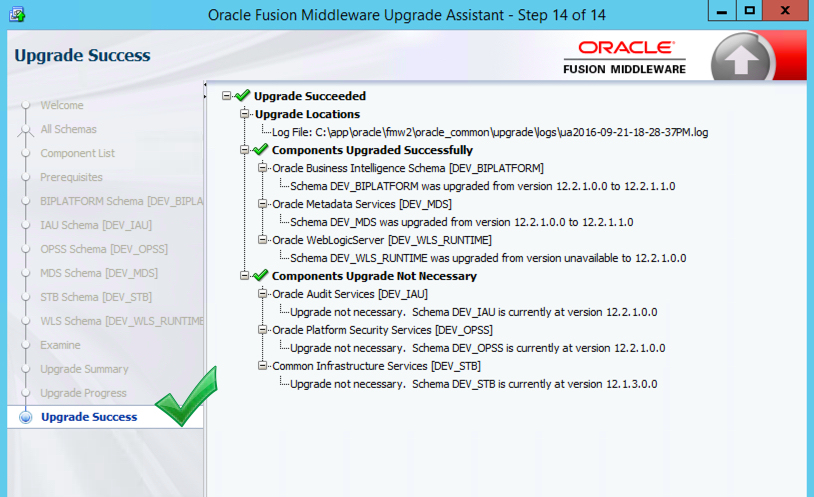 WHO INVITED A WIZARD TO THE PARTY? - RECONFIGURING THE BI DOMAIN AND UPDATING THE BI CONFIGURATION
Like I said before, I won't be covering every single step of this process i.e, doing the map viewer portion, which means you'll have to still consult the…oracle, on some of this stuff. That being said, don't gloss over backing up the map viewer file..you have to do it. This is simply an attempt to help make the upgrade process a little easier to swallow and hopefully make some of the more confusing steps a bit clearer. Moving on. Guess what? It's time to run another series of dialogue boxes. Beats the heck out of scripting this stuff though, I guess. Open up the RECONFIGURATION WIZARD!!!!! as instructed in the documentation, from the location within your NEW oracle home. The first step will prompt us for the location of the domain we want to upgrade. We want to upgrade our existing 12c domain (the old one). So type that in/browse for it. Right now.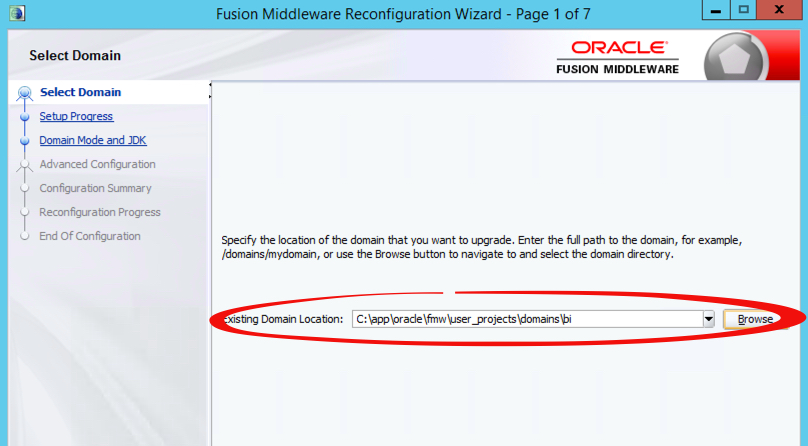 Validate your java version and location in step 3 and then click your way through the next few screens, ensuring that you've at least given your stamp of approval on any pre-filled or manually filled entries in each dialogue box. Leave step 7 alone and click Next to get to the screen where we're actually going to be starting the reconfiguration process. Click through and exit the RECONFIGURATION WIZARD!!!!!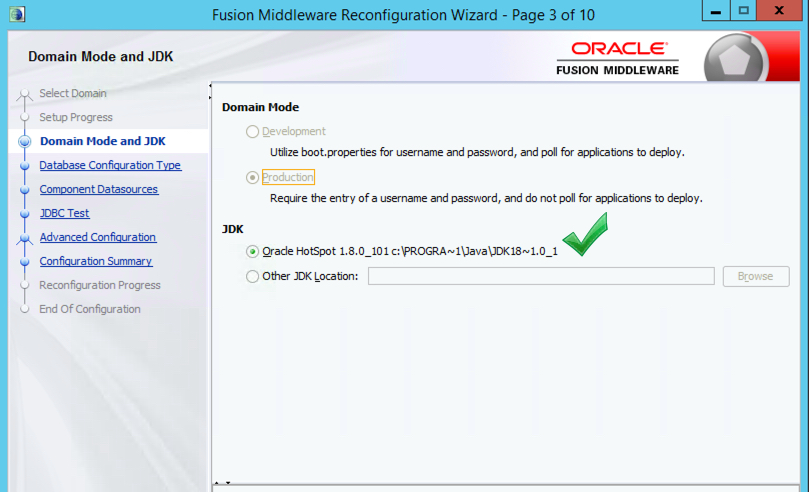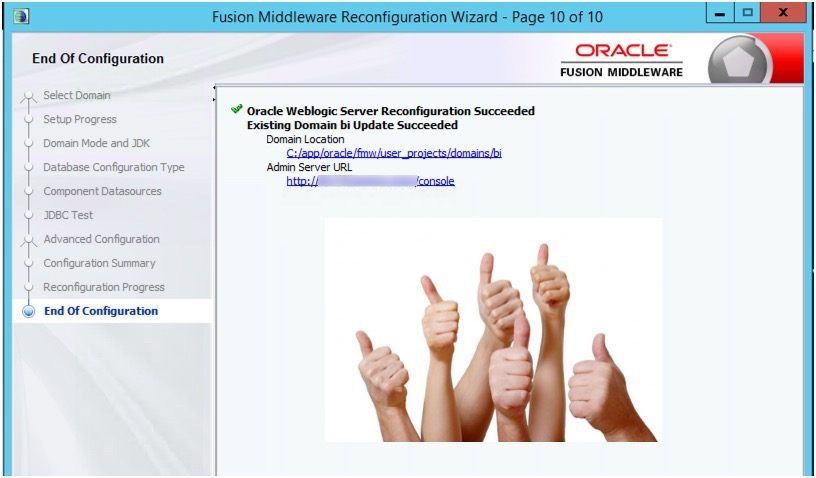 Don't forget to restore the map viewer config file at this point, and then launch the configuration assistant again, this time selecting the All Configurations Used By a Domain option in step 2. Make sure you've entered the location of the existing 12c domain in this step as well, and NOT the one created under the new oracle home.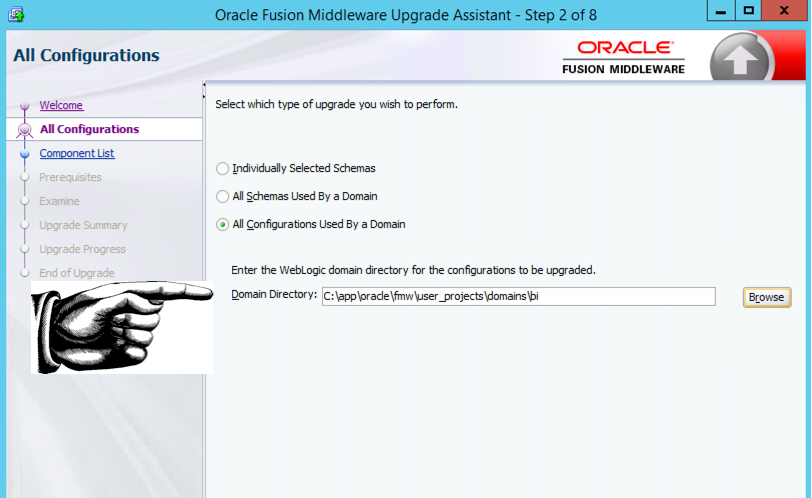 Click through the next steps, again, paying close attention to all prompts and the location for the map viewer xml file. Verify in step 7 that the directory locations referenced for both domain and oracle map viewer are for the existing locations and NOT those created by the install of the update.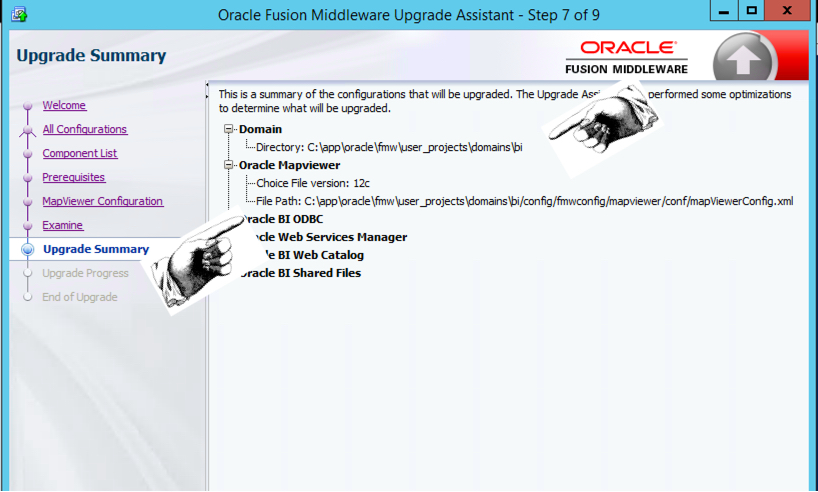 WRAPPING UP AND NOTES
You can now boot up ssl (as below) and then start OBIEE services.
DOMAIN_HOME/bitools/bin/ssl.sh internalssl true
Note: if you have tnsadmin or ldap.ora, place copies under NEW_ORACLE_HOME/network/admin
You can ignore the new oracle home created at this time, as, in my opinion, we're going to have to do something similar for any following updates
for 12c. What did you think of the upgrade process and did you run into any issues? Thanks so much for reading, and as always, if you find any inconsistencies or errors please let us hear about them!